Namor by SGM & ZVitor Update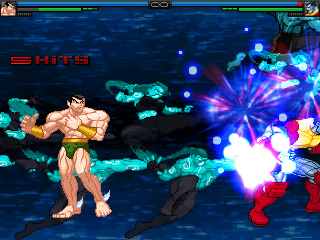 Straight from SIC-1's post:
SGM and Zvitor bring to you… Namor updated! Many of you got a chance to play this version in the Project X game. Now he is brought to you for your personal mugen! Enjoy Everyone! *Make Sure You Read The "Read Me and Info" File*
Retorno do outro Rei!!!
Meu char #14, Obrigado ao Sic-1 e ao time da SGM por ter me chamado pra fazer esse char, principalmente pelo fato de poder fazer intereção entre ele e o aquaman, temos planos pra mais, alguns planos foram deixados de lado para cumprir os prazos dos feriados.
——–
Return of the other King!!!
My char #14, Thanks Sic-1 and SGM team for ask to me code this char, this way i can make special stuffs between him and aquaman, we have plans for more, but somes plans are in hold to stay in hollydays dead-lines.
More info about my wips here:
ZVitor – Infinitywiki
SGM Forum:
Sic Graphics Mugen

Download here:
Namor
Is us on the tape brother!.
Namor by SGM & ZVitor Update

,